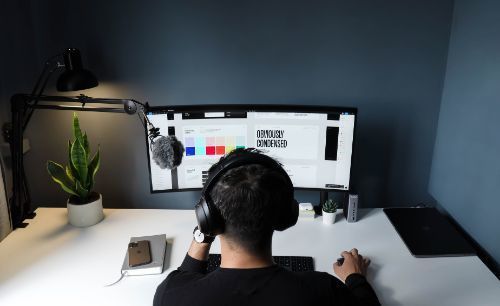 Last week, Facebook Inc. announced that they would be undergoing a rebrand and will be renaming their business to Meta. While some may have been shocked about the move, seasoned marketers know that there's a time and place for rebranding—whether that means refreshing your logo, updating your tagline or even renaming your company completely.
Considering Facebook was founded in 2004, almost 20 years ago, it was undoubtedly time for change. What started as a single social media platform for a college turned into three widely used apps across the world—Facebook, Instagram and WhatsApp. 
If you've been sitting on the same exact branding for the past 20 years, it may be time. Not so fast—before you go rushing into a rebrand, check out these tips to rebrand while still maintaining your core identity. 
Get Feedback from Your Customers
If you aren't sure if your company needs to rebrand, start by turning to the people who know and love you best—your customers. Hold a focus group or send a survey to some of your most trusted customers, and even some people who don't know your brand. Ask questions about what types of feelings your branding evokes. How do the colors make them feel? Does the tagline make sense? Is the logo clear? What about your website?
Find a wide range of people that can give you feedback. That way, you can take the feedback and identify common themes. Just because one person loves a new logo doesn't mean the masses will feel the same way. It's important to get the most feedback as possible from qualified sources before you make any big decisions. 
Don't Change Everything At Once (Unless for These Reasons)
As a rule of thumb, when updating your branding you won't want to completely change everything about your brand. Why? Because of brand loyalty. You have tried-and-true customers who already recognize your current branding. Many brands rebrand themselves by making slight changes to ensure their logo, taglines and colors have a modern feel that doesn't feel outdated. 
As with everything, there may be a time to break the rules. Your business might consider completely rebranding everything about your business for one of the following reasons:
You're going to be offering completely different products or services
You've lost brand loyalty for some reason under your current branding
You're tapping into a new market where your current branding may not resonate
Use What Works, Change What Doesn't
A rebrand doesn't need to be a total rebrand. It could be that only your tagline needs updated or your logo needs a modern twist. Don't be afraid to hold onto the things that resonate with your audience and ditch the things that don't. This may take some trial and error, but the effort and the end result will be worth it.
When in doubt, seek the outside help of professionals. Branding experts can help you work through gathering feedback, coming up with new designs and incorporating your ideas into the new branding efforts. Take these tips and partner with professionals to identify what you think could use some work and what's already working for your company. By following these tips, you'll have a brand that truly works for your business.